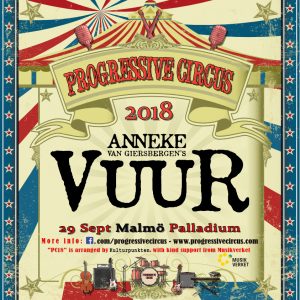 We have already announced the acoustic side of Anneke van Giersbergen with her solo show, and are incredibly happy to also announce the heavy and progressive counterpart for PC18:
VUUR (NL)
After the successful album and tour of The Gentle Storm in 2015-2016, there was clearly an international interest in more progressive music from Anneke van Giersbergen. She settled for the name VUUR, meaning fire, passion or drive in Dutch for her new progressive metal band, formed with top notch musicians from The Gentle Storm and her solo band.
The highly competent debut album "In this moment we are free – Cities" released in 2017 tells stories about eleven cities and their different relations to freedom. The following tours have received raving reviews and the band offers a live experience you shouldn't miss! Here's some reports:
"pure euphoria in a bottle. Every riff and melody was soaked in a feelgood vibe. The vocals were heavenly in so many ways and the diversity within them kept you keenly waiting to see where you would be taken next." – Moshville
"Vuur put in an excellent performance on the night and Anneke van Giersbergen's gorgeous voice will echo in my head for days to come.. Highly recommended for both first-time explorers or longtime fans." Metal Wani 
On Palladium's stage you will see Anneke on vocals and guitar, Ed Warby (Ayreon, The Gentle Storm) on drums, Johan van Stratum (Stream of Passion, The Gentle Storm) on bass and the guitarists Jord Otto (My Propane) and Ferry Duijsens (The Gentle Storm). Expect thunder, heavy riffs and the wonderful voice of Anneke soaring on top as VUUR closes the festival in an epic way! 
DO NOT MISS
VUUR official homepage: www.vuur.band/
VUUR @ Facebook: www.facebook.com/vuurband
VUUR @ Progarchives: www.progarchives.com/artist.asp?id=10305
VUUR @ Spotify: https://open.spotify.com/artist/4OPeUsRUnLPjCJ9MYXDpE7
DISCOGRAPHY
In this moment we are free – Cities (2017)
TICKETS: http://kulturcentralen.nu/evenemang/progressive-circus-2018
Previously announce Progressive Circus 2018 artists:
Anneke van Giersbergen – solo concert (NL)
Merit Hemmingson (Swe)
Progressive Circus 2018 is arranged by Kulturpunkten with support from Musikverket at Palladium, Malmö, September 29th. Follow us at www.progressivecircus.com and www.facebook.com/progressivecircus for more artist announcements and other news.