"Progafton på Babel" was arranged December 15th 2017 at Babel in Malmö, by Progressive Circus and Babel.
You're very welcome to the online museum for the event. Feel free to browse and check out poster, Youtube links and the presentation of the artists.
POSTER
(click to enlarge)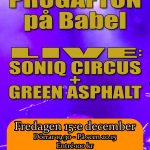 PHOTOS
(click to enlarge)
Photos by Anna Enochsson
YOUTUBE LINKS
ARTIST ANNOUNCEMENTS
Soniq Circus och Green Asphalt bjuder in till en kväll med massor med progressiv och dynamisk livemusik. Förvänta dig udda taktarter, starka melodier, grymma solon och hisnande musikaliska krumbukter!
GREEN ASPHALT (SE)
Green Asphalt är fram tills nyligen ett inspelningsprojekt som barnmusikikonen och inbitne Gentle Giantfantasten Dan Bornemark drivit under många år med hjälp av ett gäng bra musiker i sitt nätverk. 2016 gjorde projektet sitt första liveframträdande, i ett halvslutet sällskap med bl.a. två Gentle Giantmedlemmar en sommardag på Ven. Nu är det hög tid för nästa spelning och denna vackra, komplexa, melodiska och ösiga skapelse är hur bra som helst, faktiskt. Dan själv är känd för många genom sitt arbete med smart och högkvalitativ barnmusik med sina egna projekt Trio Trams & Fruktsallad.
Bengt Baadtoft Johnson – trummor
Dan Bornemark – leadsång, keyboards
Björn Claeson – saxofon, fiol, keyboard, blockflöjt, sång, akustisk gitarr
Niklas Ekelund – elgitarr, sång
Björn Wictor – bas
SONIQ CIRCUS (SE)
Soniq Circus utlovar tvära musikaliska vändningar, snygga melodier, instrumentella finurligheter i udda taktarter och ett jäkla rock-ös i grund & botten. Sedan starten för 18 år sedan har Soniq Circus spelat runtom i Sverige, släppt två album och startat en egen festival inom progressive rock – Progressive Circus. Inspirationskällorna är främst 70-talets progressiva band som Yes, King Crimson och Gentle Giant, men även med slängar av modern metal.
http://facebook.com/soniqcircus
Alexander Abrahamsson – leadsång
Marcus Enochsson – elgitarr, sång
Marco Ledri – keyboards
Markus Nilsson – bas
Christer Ugglin – trummor
VAD: Progafton med Soniq Circus (SE) & Green Asphalt (SE) LIVE
NÄR: Fredag 15 december, 19:30, på scen 20:15
VAR: Babel, Spångatan 38, Malmö
FÖRKÖP: 100 kr (inkl. förköpsavg.) på babelmalmo.se/biljetter
I DÖRREN: 100 kr
ÅLDER: 13 år