Magma played at KB in Malmö, October 28th 2017. The event was a joint arrangement by Kulturpunkten/Progressive Circus and Jazz i Malmö.
You're very welcome to the online museum for the event. Feel free to browse and check out poster, reviews, photo gallery, Youtube links and the thank you post from the arrangers.
POSTER
Click to enlarge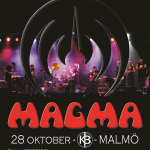 ARTIST ANNOUNCEMENT
MAGMA (FRA) – 2017 announcement
REVIEWS
(CLICK ON LOOKING GLASS to enlarge and read)
PHOTO GALLERY
(Click to enlarge)
Photos by Sascha Kajic
YOUTUBE LINKS
THANK YOU POST FROM THE ARRANGERS
A few days have passed since the busy but highly rewarding weekend with Progressive Circus' 9th and 10th event. We got awesome concerts by three bands & a DJ + great crowds for both nights!
We would like to give big thanks to:
– MAGMA with crew for an otherworldly show of the highest caliber! Always a pleasure to work with you, and a special mention to the big hearted booking agent Walter Krucker!
– Totte Lundgren & all the personnel @ KB for showing why you're the greatest r…ock club in southern Sweden! So professional and service minded! Let's do this again soon
🙂
– Khadavra, Agusa and Jazz Är Farligt for making the first "Förfest" great – and a concept we might use again
– Martin Axén & all the personnel @ Grand for a very service minded and friendly atmosphere that we would love to be part of again
– Jazz i Malmö for co-arranging the Magma gig with us
– Hampus Hansson for fixing the brand new Gretsch kit to Christian
– LA Rental for an impeccable backline
– Lucas Rosén for driving Magma
– Mats Westerberg, Andreas Hanberger, Karin & Tommy Arnesson for helping out in various ways
– YOU – the ticket buyers, the word spreaders and followers who make the PC dreams possible