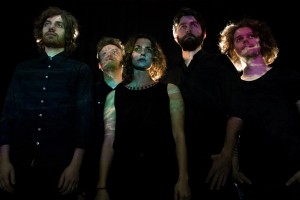 Played at Progressive Circus 2017
We're very happy to present a highly energetic and superb live band with a promising future for the PC17 line-up:
POSTURES (SWE)
If you mourn that The Mars Volta and Pure Reason Revolution are no longer around, you should immediately wipe your tears away and instead head to Progressive Circus 2017 to witness Gothenburg based Postures, who have refined the essence of these bands, to create their own, very powerful musical statement.
Although the great, self-titled debut from 2013 shows a band that has already found it's sound, the band has gone further with the follow-up album Halucinda (2016) where the title track, Myriad Man and the epic Wavemaker are really impressive contemporary progressive rock pearls that deserve to reach a larger audience. With two great albums on their CV, Postures have also become used to delivering the material as a potent live act with festival gigs and concerts in Sweden, Germany and Belgium.
Some trademarks of Postures are the repeated, angular and often dissonant guitar riffs of Benjamin Watts and Viktor Andersson that build an eerie dynamic tension together with Isak Björhag (drums) and Per Pettersson (bass). Paulina Nyström's voice brings it all together and is the perfect counterbalance with a singing style that varies from delicate and smooth à la Beth Orton of Portishead to powerful, mantraish scream-vocals à la Cedric Bixler-Zavala of The Mars Volta. Recently, the band has added two members in order to give you the best Postures experience: Margit Gyllspång who handles percussion arrangements and backing vocals, and Madeleine Sjögren on backing vocals and keyboards.
Prepare yourselves to board the psychedelic/progressive journey that is Postures on PC17. DO NOT MISS!!
Postures official homepage: http://posturesband.com/
Postures @ Facebook: www.facebook.com/posturesmusic
Postures @ Spotify: https://play.spotify.com/artist/6kUNSVlonKZYSOxJQtpI78
DISCOGRAPHY
Postures (2013) – Listen to: "Heavy Tremor"
Halucinda (2016) – Listen to: "Wavemaker"