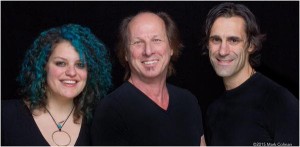 Played at Progressive Circus 2017
We're proud beyond what's suitable in the land of middle milk to announce a true legend in progressive rock and one of the most musically awesome, powerful and fun live ensembles out there as our PC17 headliner:
ADRIAN BELEW POWER TRIO (USA)
Adrian Belew's musical CV is ridiculously impressive, including being a member of Frank Zappa's and David Bowie's bands in the late 70s, Talking Heads after that, and then being the front man of all King Crimson's different incarnations from 1981 to 2009. As if that wasn't enough, he has also collaborated with and done studio work for Paul Simon (Graceland), Tori Amos , Nine Inch Nails, Porcupine Tree, Jean Michel Jarre, Mike Oldfield, Cyndi Lauper, Joe Cocker, Herbie Hancock and Crash Test Dummies, to mention some. Apart from that he has led a creative solo career, designed the iOS app "FLUX by belew" (TM) and scored the music for Pixar short film Piper (2016).
The highly entertaining live act The Adrian Belew Power Trio was pulled together in 2006, with focus on delivering King Crimson classics as well as Adrian's solo material in some of the most powerful versions ever. The trio displays an international top notch musicianship with Julie Slick's uncompromising fuzz bass grooves and Tobias Ralph's jawdropping, technical but heavy drumming. And of course, the ever-exploring musical madman Adrian, whose apparent energy and happiness on stage is about as an important instrument as his dynamic singing style and guitar playing, filled with creative uses of effects, pedals and unorthodox behaviour.
One of the ground breaking albums of progressive rock – King Crimson's style shifting comeback in 1981 – "Discipline", saw Adrian Belew bring a much needed and more passionate and emotionally based counterpoint to Robert Fripp's mathematical approach to composing and guitar playing. With the Power Trio, heavy versions of Crimson classics like "Indiscipline", "Frame by frame", "Thela hun Ginjeet", "Neurotica", "Three of a perfect pair" and "Dinosaur" have been performed on stage, alongside Ade's solo masterpieces like "E", "A little madness" and "Ampersand".
DO NOT MISS when this awesome trio crosses the pond to perform for you in Helsingborg, April 29th at PC17. You will not be disappointed!
Adrian Belew official homepage: www.adrianbelew.net
Adrian Belew @ progarchives: www.progarchives.com/artist.asp?id=1751
Adrian Belew @ Facebook: www.facebook.com/AdrianBelew
Adrian Belew Power Trio @ Facebook: www.facebook.com/ADRIAN-BELEW-POWER-TRIO-106347898527
Adrian Belew @ Spotify: https://open.spotify.com/artist/67ACRXvvMXGf3zGJMefM63
SELECTED SOLO DISCOGRAPHY:
Lone Rhino (1982) – Listen to: The Lone Rhinoceros
Acoustic Adrian Belew (1995) – Listen to: Matte Kudasai
Side Three (2006) – Listen to: Men in Helicopters v4.0 (featuring Danny Carey of Tool on drums and Les Claypool of Primus on bass)
Side Four (2007) – with ABPT – Listen to: Thela Hun Ginjeet
e (2009) – with ABPT – Listen to: e/e2
Live in Japan (2014) – with ABPT as part of The Crimson Projekct – Listen to: Indiscipline
Live at Rockpalast 2008 (2015) – with ABPT- Listen to: A Little Madness
SELECTED DISCOGRAPHY WITH KING CRIMSON:
Discipline (1981)
Beat (1982)
Three of a perfect pair (1984)
Thrak (1995)
Absent Lovers – Live in Montreal 1984 (1998)
The Power to Believe (2003)
Eyes Wide Open (DVD, 2003)
SELECTED OTHER DISCOGRAPHY:
David Bowie: Stage (1978)
David Bowie: Lodger (1979)
Frank Zappa: Sheik Yerbouti (1979)
Talking Heads: Remain in Light (1980)
Joe Cocker: Sheffield Steel (1982)
Jean Michel Jarre: Zoolook (1984)
Paul Simon: Graceland (1986)
Cyndi Lauper: True Colors (1986)
Mike Oldfield: Earth Moving (1989)
Crash Test Dummies: God Shuffled His Feet (1993)
Nine Inch Nails: The Downward Spiral (1994)
Nine Inch Nails: The Fragile (1999)
Tori Amos: Strange Little Girls (2001)
Porcupine Tree: Deadwing (2005)