PROGRESSIVE CIRCUS 2017 was held April 29th 2017 and marked the return to Helsingborg and the newly renovated The Tivoli after the building had been moved across the square since PC15 and the Magma concert in 2015. PC17 was arranged by Kulturpunkten with support from Kulturrådet and Helsingborgs Stad.
The line-up was Adrian Belew Power Trio (US), Moulettes (UK), Postures, s n a r t d ö r v i, Crumb and Hannas Orkester, which also was the first gender equal international progressive rock festival in the known universe, with 12 women and 12 men on stage!
You're very welcome to the online museum for the event. Feel free to browse and check out poster, reviews, articles, photo gallery, Youtube links and the thank you post from the arrangers.
POSTER
Click to enlarge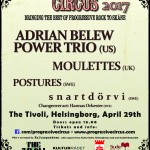 ARTIST ANNOUNCEMENTS
ARTICLES
(CLICK ON LOOKING GLASS to enlarge and read)
PHOTO GALLERY
Click to enlarge
Photos by Tobbe Janson
Photos by Andreas Hanberger
YOUTUBE LINKS
THANK YOU POST FROM THE ARRANGERS
It's now two days since Progressive Circus 2017, and we're still high on all the love and enthusiasm that was in the air at The Tivoli! After about a year of planning and working towards making the first gender equal progressive rock festival ever, it was sooo rewarding to see the reactions from both audience and artists. Now NO ONE can say it can't be done
=)
We would like to thank:
– The 12 female and 12 male musicians on stage + their crews who came from US, UK, Gothenburg and Skåne to produce some of the best music on the planet from stage!
– YOU – the fantastic audience who keep supporting our vision by coming to the arrangements and/or spreading the word.
– The Tivoli – so incredibly competent, service minded and constantly happy! It's always a great joy to work with you!
– Kulturrådet, Helsingborgs stad and Studiefrämjandet who made it possible for us to keep our dreams alive!
– Karin Bjerke Frankell who's middle name is great service
– Zoran Cullibrick for driving two Moulettes with very short notice
– Andreas Hanberger for being an experienced Progbuss driver
– Johan Arnesson, Sara Arnesson and Tommy Arnesson for making sure our kids were entertained so we could make sure you were entertained
See you at Slagthuset Malmös Nöjeshjärta July 2nd, Bryggarsalen Vasastan October 13th and Kulturbolaget October 28th!
/ Anna Enochsson & Marcus Enochsson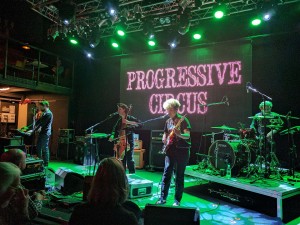 Photo: Tobbe Janson