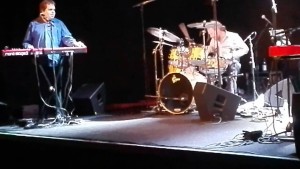 Friends of great music!
As if it wasn't enough to experience Magma in Helsingborg October 10th, we'll also have a very fine opening act: Mats/Morgan Duo! They will serve you a shorter and unique musical introduction to the main act of the evening.
Mats/Morgan Duo consists of the super skilled musicians Mats Ögren, keyboard and Morgan Ågren, drums – two friends who have ignored rules in jazz/prog/fusion since 1981, and who already as teenagers were invited to play with the one and only Frank Zappa. Since then, they have appeared on numerous studio and live projects together or separately, such as King Crimson, Squarepusher, Devin Townsend, Bill Laswell and Fredrik Thordendal of Meshuggah. Apart from these merits, Mats/Morgan are devoted Magma fans who each did a leap of joy when they were told about the event of October 10th, and will happily visit The Tivoli to play for you all!
You can buy tickets for the event in our brand new web shop already today, and also tickets for the "prog bus" from Stockholm w return (including some very special guests). The shop is found here:
http://shop.textalk.se/se/shop.php?id=49188
Quotes about Mats/Morgan Band:
"They played unbelievably, just unbelievably.", Frank Zappa
"I am stunned, these guys have an extraordinary amount of talent", Steve Vai
Official homepage: http://www.morganagren.com/
A live clip with Mats/Morgan Band from Tokyo 2014: https://www.youtube.com/watch?v=KpPLwIepXHg