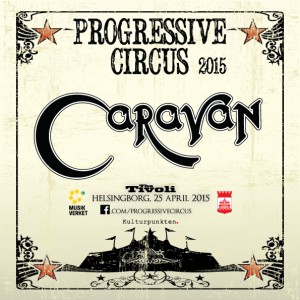 Played at Progressive Circus 2015
We are excited beyond most physicians' recommendations to present a truly legendary prog band to our PC fans:
CARAVAN
Early on, Caravan were a part of London's underground psychedelic scene, gigging with Yes, Pink Floyd and Soft Machine in the late 60s. Soon they became one of the central artists on the so called Canterbury scene, caracterized by an improvisational avant-garde and soft jazz approach where the musically silly and the musically complex goes hand in hand.
…
Many consider "In the Land of Grey and Pink" (1971) to be one of progressive rock's seminal albums, carefully remixed in stereo and 5.1 by Steven Wilson of Porcupine Tree for a tasteful Deluxe edition on it's 40:eth anniversary. The lengthy fuzz Hammond solos on the sidelong "Nine feet underground" or on the previous album's "For Richard" are pure prog delight.
Those familiar with other Canterbury acts like Soft Machine, Camel, Hatfield and the North or Gong probably know their Caravan already. Still, they can be described as a quite melodic and accessible alternative, with plenty of both poppy tunes and mindblowing solo excursions.
To celebrate their 48th year, Caravan will do their FIRST SWEDISH GIG EVER when headlining Progressive Circus 2015. Founder Pye Hastings (guitar, vocals) and 70s members Geoffrey Richardson (guitar, viola, violin) and Jan Schelhaas (keyboards) will serve you some iconic prog pieces, together with Jim Leverton (bass) and Mark Walker (drums, percussion) on the main stage of The Tivoli on April 25th.
DO NOT MISS THIS PROG HISTORIC EVENT!!!
STUDIO DISCOGRAPHY:
Caravan (1968)
If I Could Do It All Over Again, I'd Do It All Over You (1970)
In the Land of Grey and Pink (1971)
Waterloo Lily (1972)
For Girls Who Grow Plump in the Night (1973)
Cunning Stunts (1975)
Blind Dog at St. Dunstans (1976)
Better by Far (1977)
The Album (1980)
Back to Front (1982)
Cool Water (1994)
The Battle of Hastings (1995)
The Unauthorized Breakfast Item (2003)
Paradise Filter (2013)
LINKS:
Caravan official homepage: http://www.officialcaravan.co.uk
Caravan on Facebook: http://www.facebook.com/OfficialCaravan
Caravan on Spotify: https://open.spotify.com/artist/5kwbFaRKf9HCFGrJPacZ7s
Caravan on Progarchives: http://www.progarchives.com/artist.asp?id=613
"Nine Feet Underground" live in Manchester, 2014: http://youtu.be/yuSbSeGVZ4k
Live in Nottingham, 1990: http://youtu.be/KxJdtIqAxiM
"Winter Wine" from Beat Club in German TV, 1971: http://youtu.be/arDLgz3KHYA