On this site with media for Soniq Circus brand new release "Chapter 2: The Accident" you can:
– stream the album online
– download mp3 or wave files
– find links to the album on Spotify and Youtube
– download the cover (right click and "save as")
– see the video of "The I of the Storm"
– read the release statement below
– download band photos
---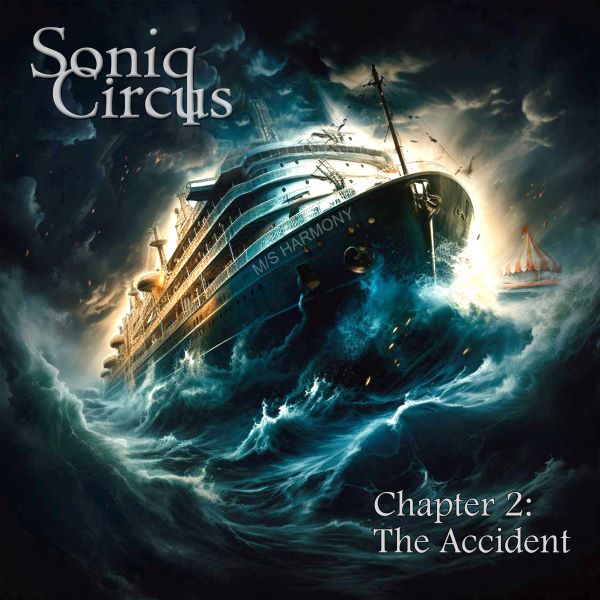 Download the album in wave format here: Chapter Two – The Accident
…or as mp3:s here:
---
Songs / Tracks Listing
1. Intermezzo – Clouds Gather (2:26)
2. The I of the Storm (3:55)
3. The Accident (8:30)
4. Achilles Down (7:54)
5. In Mental Rust (5:23)
6. Coda – The Audience Drowns (1:04)
Total Time 29:13
---
Line-up / Musicians
– Christer Ugglin / drums
– Markus Nilsson / bass
– Marcus Enochsson / guitars and backing vocals
– Marco Ledri / keyboards and additional guitars
– Alexander Abrahamsson / lead vocals
Released Oct 27 2023.
---
It's a huge pleasure to announce that "Chapter 2: The Accident" by Soniq Circus is out NOW on your favourite streaming platforms!!
This release continues the story that started on last year's "Chapter 1: The Game Begins", where a bunch of people met on a cruise, and weird things started to happen after being invited to a game of cards by a mysterious being.
Chapter 2 starts with a short mood setting piece, leading us onto "The I of the Storm" which was recently released as a single due to it's relative directness, powerful melodies and solid rock riffs. Things get even heavier in the 8,5 minute long "The Accident" though, which showcases Soniq Circus at it's heavy best with some powerful drumming. The card players start to realize that the game is linked to the fate of not only themselves but of the whole ship. The storm – or the mysterious card dealer – or a drunk captain somehow causes an accident.
Another little epic, 8 minute "Achilles Down" follows in the same direction with plenty of well crafted parts that mix creative prog parts in odd time signatures, strong vocals and solos that are linked together by the story of the cruise ship sinking due to the accident. "In mental rust" is basically a fun instrumental ride down the ocean where the band continues to play until the very end.
Fans of Soniq Circus, A.c.t, Saga, Spock's Beard, City Boy, Vulkan, Dream Theater or simply good progressive rock should check this out!!
Soniq Circus have also promised to perform "Chapter 2: The Accident" LIVE on tour togheter with A.C.T!
Nov 16 – Fryshuset Klubben, Stockholm
Nov 17 – Musikens hus, Göteborg
Nov 18 – Babel, Malmö
Ticket link to the tour: https://nortic.se/ticket/event/46605