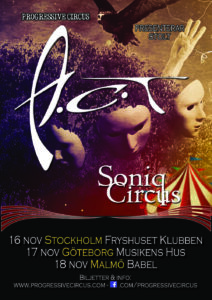 Progressive Circus are incredibly happy to present the Swedish November 2023 tour of:
A.C.T & Soniq Circus
Come along and join us when we return to where it all started. Progressive Circus made the first announcement ever in November 2013 for the PC14 headliner A.C.T. Soon to follow was Soniq Circus and other bands. The festival was a success with great concerts.
Over the years, we've had lots of demands for seeing A.C.T on stage again, and no wonder, they're among the most awesome live bands out there, with a legacy of nearly 30 years together, celebrating the power of top notch musicianship and great songwriting. Apart from familiar killer albums like Today's Report (1999), Last epic (2003), Circus Pandemonium (2014) they have also released three absolutely stunning EP:s recently that want to reach out to you from stage. So please give many spins to Rebirth (2019), Heatwave (2021) and Falling (2023) if you haven't already done so. The Malmö based band hasn't been on stage since 2019, and are eager to put on some stunning shows for you with a selection of old fan favourites and the new fresh material.
The first Progressive Circus festival was arranged by Soniq Circus in 2014 in order to draw a bigger crowd for their gigs, and are happy to once again share the stage with A.C.T, being fanboys of them and all… Musically, there's several shared influences and both bands have been described by name dropping Saga, Rush and City Boy. Just like A.C.T Soniq Circus are now releasing EP:s and Chapter 1: The Game Begins (2022) who was promoted on stage on the tour with Anekdoten last year will be followed by a Chapter 2 release before the tour. The EP will continue the storyline about a cursed cruise, started on the previous EP.
So please come and catch us on the road when we join forces to give the best of progressive rock to Stockholm, Gothenburg and Malmö in November:
Nov 16 – Fryshuset Klubben, Stockholm
Nov 17 – Musikens Hus, Gothenburg
Nov 18 – Babel, Malmö