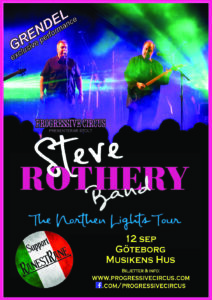 We are very happy to present STEVE ROTHERY BAND at Musikens Hus in Gothenburg, September 12 2023!
Steve Rothery is the legendary guitarist of Marillion, playing on all their releases since the debut single Market Square Heroes in 1982. In 2023, Steve's own band will celebrate the 40 year anniversary of Script for a Jester's Tears, and play many more goosebump songs from both Marillion and his solo albums on this exclusive Scandinavian visit. We will get a tour exclusive performance of Grendel in it's entirety, so don't miss 🙂
It's rare to catch the Steve Rothery Band in Sweden, with just one previous visit in 2014, so make sure you take the chance to enjoy some prog classics and those marvellous guitar solos and licks you know so well at Musikens Hus in September!
We are very happy to also invite Italian RanestRane as the opening act of the evening!
Get your tickets here https://www.nortic.se/dagny/event/42204