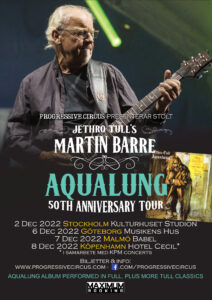 JETHRO TULL'S MARTIN BARRE – AQUALUNG 50TH ANNIVERSARY TOUR
Progressive Circus proudly present four Scandinavian concerts with Jethro Tull's legendary guitarist Martin Barre and band. On stage they will play the whole iconic album Aqualung in it's entirety, alongside other Tull classics and surprises. The countdown has begun!
Due to Corona restrictions, the originally announced 2021 dates have been postponed to 2022. Tickets bought to 2021 are valid for the 2022 dates:
Dec 2 2022 – Kulturhuset Studion, Stockholm
Dec 6 2022 – Musikens hus, Göteborg
Dec 7 2022 – Babel, Malmö
Dec 8 2022 – Hotel Cecil, Köpenhamn (in collaboration with KPM Concerts)
Martin Barre was guitarist for Jethro Tull from 1968 untill 2012 and his sound and playing was an undeniably major factor in their success, including 65 million records sold. Aqualung brought Jethro Tull to the forefront of the mainstream rock arena in 1971, with Martin's historic riffs, power chords and soaring melodic solos as a central part of it's sound. His solo in the title track was voted one of the top 20 best guitar solos of all times in Guitar World and MusicRadar, and with the band he got a Grammy in 1988. Apart from Jetrho Tull, Martin has collaborated with artists like Paul McCartney, Phil Collins, Gary Moore and has shared stage with Jimi Hendrix, Led Zeppelin, Pink Floyd and many more.
On this world tour Martin will be bringing a spectacular show playing Aqualung in its entirety with his touring band – featuring Dan Crisp on lead vocals, Alan Thomson on bass, and Darby Todd on drums. Martin himself says: "Aqualung was the album that defined Tull. Sumptuous melodies, big dynamics and power riffs galore. Acoustic met electric…and it all worked. The anniversary tour will be a once in a lifetime opportunity to sit back and relive this legendary album, being played in full and in sequence for the first time."
Throughout the years, Martin has played around 70 concerts in Sweden and Denmark with Jethro Tull, and now we are so much looking forward to having his own band here! Very welcome!