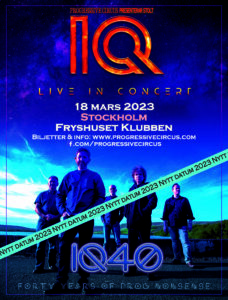 We are happy to give you another great concert experience to look forward to, when we welcome the kings of neoprog to Scandinavia for the fourth time, celebrating their 40'th anniversary:
We have invited IQ for their first full length concerts ever in Sweden at Progressive Circus 2016 in Malmö, and in Stockholm 2017 and 2019, but we have received plenty of requests for a return and we simply couldn't resist bringing IQ back when a 40th anniversary tour was being planned. Dates for 2021 and 2022 were announced but has been moved to March 18, 2023.
Check out our online museums from their last Swedish visits here:
"Resistance" was released just after IQ's last visit in 2019, and has been praised as a great follow-up to the master piece "The Road of Bones" from 2014. In April you will not only experience more of "Resistance" and "The Road of Bones" material in a live format, but also selected gems from all of IQ's 40 years as a band.
On stage you will also see the four founding members: vocalist Peter Nicholls; Mike Holmes on guitar; Paul Cook on drums; Tim Esau on bass and also Neil Durant on keyboards who joined in 2011.
We look forward a lot to welcome IQ back to Scandinavia for this evening of top notch neoprog, and to share them with you who also enjoy the wonderful music of IQ.