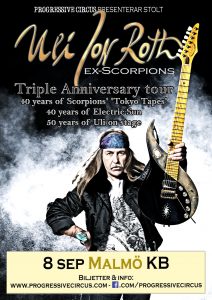 On September 8 one of the big guitar gods will visit Malmö for an awesome three hour concert, packed with well selected songs from his whole career.
Uli Jon Roth got his breakthrough as the lead guitarist of Scorpions in 1973 and is an integral part of the sound on five classic albums by the German hardrock giants, until he left the band to pursue a solo career and his new heavy metal band Electric Sun. At KB we celebrate the 40 year anniversary of the classic live album "Tokyo Tapes" who many consider the best live album in hard rock, and it became his last with Scorpions. Apart from that, Uli has led a long solo career, designed so called "Sky guitars" with extra frets on to emulate the higher violin notes and brought metal and classical music together on "Metamorphosis of Vivaldi's Four Seasons (2003)" for instance.
Uli has influenced big names like Kirk Hammett and Yngwie Malmsteen with his creative, fastfingered and classicaly influenced playing style, and it's a great honour for Progressive Circus to present a concert with this guitar legend.
See you there =)
Tickets: https://www.nortic.se/dagny/event/23380