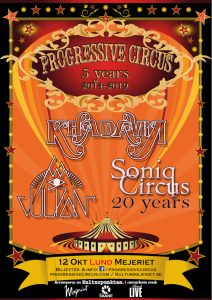 Join us to celebrate 5 years of Progressive Circus with a musical prog party at Mejeriet's café stage Saturday Oct 12, where we revisit three favourite PC bands!
Get your tickets here: https://secure.tickster.com/sv/vpjawa909x4ya0k/products
The idea of Progressive Circus was born in 2013, when Soniq Circus and Vulkan decided to do a gig together. Eventually more bands were added and it became the first PC festival, in Helsingborg, April 2014. For our 5 year celebration, we have gone back to where it all started…
On stage:
SONIQ CIRCUS, who took the initiative to do PC14 and played at the festival three years in a row. The band celebrates 20 years in 2019 and has released two great albums at Progress Records, but you need to witness them live to get the full Soniq Circus experience. Expect sharp musical twists and turns, pretty melodies, instrumental quirkyness in odd time signatures and a solid rock drive as a base. The inspiration mostly comes from classic prog bands like Yes, King Crimson and Gentle Giant, but also from modern metal like Dream Theater.
Youtube: https://youtu.be/AFtR7uw9USM
Spotify: https://play.spotify.com/artist/1tLTgzwaDIb2VNo6yCPYu1
Facebook: http://facebook.com/soniqcircus
VULKAN from Karlstad/Göteborg, who did an awesome concert at PC14 with focus on the then yet unreleased "Observants". In October, we hope to hear some dark, distorted and dissonant tracks from both their two released albums and the coming third. There's plenty of lead heavy Tool inspired rhythmical riffs, providing a base for heartfelt Jeff Buckley style singing which accentuates their Mars Volta-ish approach to songwriting with many dramatic twists and turns. Other influences include Radiohead, Mew, Black Sabbath, Led Zeppelin and Frank Zappa. Both on record and live their name Vulkan (volcano in Swedish) hints at the bombastic experience that will hit anyone who gives them a try!
Youtube: https://youtu.be/M91slSwR-qw
Spotify: http://open.spotify.com/artist/5xPUdomrEJpaTdsvG7Rr0p
Facebook: https://www.facebook.com/thebandvulkan
KHADAVRA did a praised concert at "Förfesten" the day before Magma at KB, Malmö in 2017, and of course we want to see them at a PC event again! Khadavra's origin is in the forests of Värmland, with 70ies Black Sabbath, Pink Floyd and King Crimson as musical roots. Influences from Wagner, Slowdive, Opeth and Tool are also blended into the music. The band is an outlet for the members' concerns and feelings toward society and the modern kind of "humanity" and it's conventions. Prepare to be swept away when they play live for you!
Youtube: https://youtu.be/Q6LhN8Ptpq8
Spotify: https://open.spotify.com/artist/1rzJtzRhMMascAx1Uid2jN
Facebook: www.facebook.com/khadavra
We hope you want to celebrate with us! It will be awesome =)
The event is arranged by Kulturpunkten in collaboration with Mejeriet, Skånsk Live and Region Skåne.
More info at www.progressivecircus.com or www.facebook.com/progressivecircus