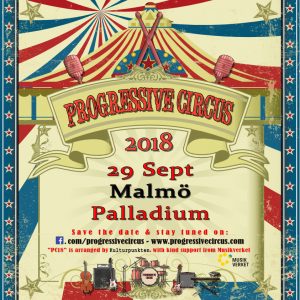 PROGRESSIVE CIRCUS 2018
Announced artists so far:
ANNEKE VAN GIERSBERGEN – solo concert (NL)
Tickets: http://www.kulturcentralen.nu/evenemang/progressive-circus-2018
In november, we were notified that Musikverket kindly give us their faith and financial support to realize our vision for Progressive Circus 2018.
Just like PC17, where there were 12 female and 12 male musicians on stage, including Adrian Belew Power Trio and Moulettes, the PC18 vision is focused on bringing the best of progressive rock to Skåne in a gender equal way. We have spent the last months on creating our dream line-up under these very inspiring conditions, and can tell you it will be a great festival, now that we've come a bit further on the road! We hope to be able to share some of our excitement with you by making our first PC18 artist announcement and giving you more info in a not so distant future…
But until then, put "PC18" and Palladium, Malmö on September 29th in your calendar!
PS. Feel free to make your own qualified guesses about the line-up. We will focus on female dominated or gender equal acts, instead of male dominated, as defined by Jämställd festival.