PROGRESSIVE CIRCUS 2018 was held September 29th 2018 at Palladium, Malmö and was arranged by Kulturpunkten with support from Musikverket. We have used the support, earmarked for inviting female dominated or gender equal acts to create an extremely high quality level for PC18, with this final lineup:
The line-up was VUUR (NL), Iamthemorning (RUS), Anneke van Giersbergen (NL), Merit Hemmingson (SWE) and Promise & the Monster (SWE).
You're very welcome to the online museum for the event. Feel free to browse and check out poster, reviews, articles, photo gallery, Youtube links and the thank you post from the arrangers.
POSTER
Click to enlarge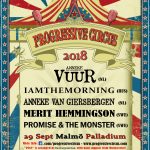 ARTIST ANNOUNCEMENTS
ANNEKE VAN GIERSBERGEN – solo concert (NL)
REVIEWS
(CLICK ON LOOKING GLASS to enlarge and read)
ARTICLES
(CLICK ON LOOKING GLASS to enlarge and read)
PHOTO GALLERY
Click to enlarge
Photos by Pablo Suzarte at MpmpStudio 
YOUTUBE LINKS
THANK YOU POST FROM THE ARRANGERS
It's been a week since Progressive Circus 2018 and we have a few things to say/write…
We had a GREAT time last saturday, and it was a big joy to meet all of you nice artists and visitors. We were also happy to see the bands, artists and crew talk and interact with eachother, and the atmosphere was really friendly and cozy, both on stage, in the audience and backstage. Also, we've been arranging events in many venues and must let you know that basically EVERY time, the personnel have told us how LOVELY our audiences are. You come for the passion for the music, and actively contribute to make the concert experience positive!
We have many THANKS to hand out, to:
– Musikverket, for making PC18 possible at all, and for giving us the chance to hold an incredible quality level on all five concerts of the festival
– ALL who have spread the word and helped us reach out to as many potential ticket buyers as possible! A special thank you to Martin Sandberg and Marcus Bengtson who have topped the PC18 like-&-share-list!
– THE AUDIENCE, coming all the way from Mexico, Chile, Australia, Russia, UK, The Netherlands, Germany, Finland, Denmark and Sweden to our musical party.
– ARTISTS/BANDS & CREWS for being easy and fun to work with, and of course for giving great concerts!
– Palladium Malmö who have once more been terrific to work with. Big thanks for your professionalism and great service level! Thanks, Emma Petersson, Filip Vilhelmsson, and also William from Tune!
– Pablo Suzarte from MpmpStudio for photo/video documenting the concerts with great quality
– Johan Arnesson and Sara Arnesson for taking care of our kids!
Now, we're counting down to Spock' Beard & Roine Stolt's The Flower Kings Revisited in December, and the concerts in 2019. Oh yeah, sorry, you haven't been told about them yet… So, just stay patient and you will be informed later on…
Prog hugs & kisses,
Anna & Marcus Enochsson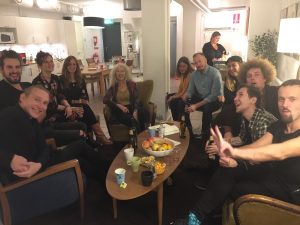 Photo: Marcus Enochsson