Hello dear visitor!
You're extremely welcome to the official website of PROGRESSIVE CIRCUS!
PC is a festival/concert concept run by Anna and Marcus Enochsson's family company Kulturpunkten, with the vision to bring the best of progressive rock to Skåne.
We have arranged the first Swedish concerts by Magma (Fra), Caravan (UK), Le Orme (Ita), Mike Portnoy's Shattered Fortress (US/UK/Mex) and the first full concert by IQ (UK). We have also arranged the first gender equal prog festival (PC17, with Adrian Belew Power Trio, Moulettes and more).
To find out more about our previous events, please visit our PC museum to look at Youtube videos, articles, photos etc.
If you're interested in our coming events, please click on these posters: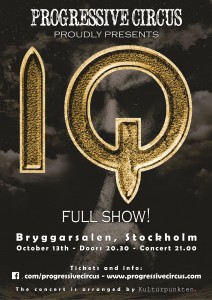 Stay tuned here, or at www.facebook.com/progressivecircus, or subscribe to our mail list to get news regarding 2017 😉