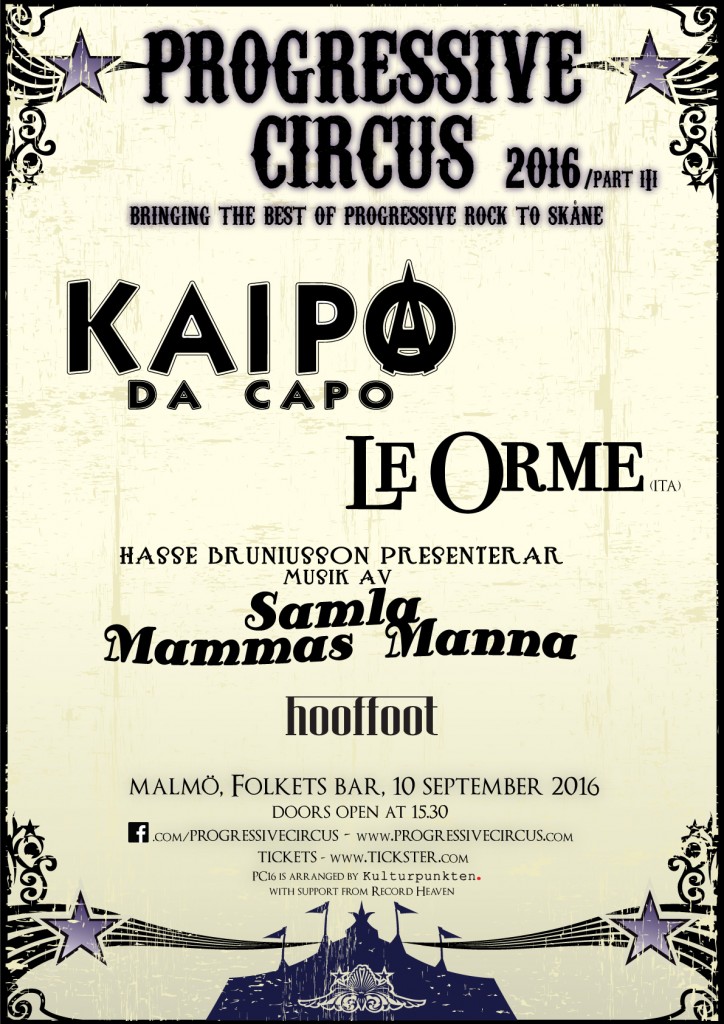 So you miss or missed the 70s?
Then take a little trip back with "Progressive Circus 2016 – part III", where original members from LE ORME, KAIPA, SAMLA MAMMAS MANNA play the music from 10 masterpiece prog albums released 1971-1978, including some that will be performed in their entirety.
PC16 – part III is held at Folkets Bar in Malmö, September 10th, 2016.
Line-up:
– LE ORME
– KAIPA DA CAPO
– HASSE BRUNIUSSON plays SAMLA MAMMAS MANNA
– HOOFFOOT
LE ORME (Ita)
Since the start in 2014, Progressive Circus has invited some of the most legendary and genre defining names in progressive rock to Sweden, like Magma (Fra), IQ (UK) and Caravan (UK). Here we go again, when we arrange the first Scandinavian visit for Le Orme, who celebrate 50 years by performing their three most iconic albums Felona e Sorona (1973), Uomo di Pezza (1972) and Collage (1971) in their entirety for the Malmö audience. Le Orme are among the three great bands in Rock Progressivo Italiano (RPI), alongside PFM and Banco del Mutuo Soccorso, and as a matter of fact PC16 – part III marks the first visit by ANY RPI artist to Sweden…
KAIPA DA CAPO
The premier Swedish symphonic rock band of the 70's is doubtlessly Kaipa, whose original members Roine Stolt (guitars/vocals), Tomas Eriksson (bass) and Ingemar Bergman (drums) have now reunited as Kaipa da Capo. Expect beautiful melodies, Swedish folk music, awesome keyboards, long songs, jaw-dropping guitar solos and Rickenbacker bass. Since his departure from Kaipa in 1978, Roine has established himself as one of the most revered prog musicians on the planet, through his own projects The Flower Kings and Agents of Mercy, as a member of super group Transatlantic and through his collaboration with prog Gods Steve Hackett (touring band) and Jon Anderson (Stolt/Anderson album out June 24th).
HASSE BRUNIUSSON plays SAMLA MAMMAS MANNA
Roine is also a member of the new dream line-up playing Samla Mammas Manna material from their first four albums. The project is led by SMM drummer Hasse Bruniusson, also joined by Rikard Sjöblom on keyboards (Beardfish, Big Big Train) and Håkan Almkvist on bass (Ensemble Nimbus). Samla Mammas Mannas mad mix of instrumental jazz-fusion, avantgarde improvs, Swedish folk music and wordless chants established the band as a boundarybreaking collective in the 70's, and are today a definitive cult classic!
HOOFFOOT
As if it wasn't enough to hear three legendary 70's bands, we have also invited a much younger band, but that sounds just as vintage – the Malmö based Hooffoot! The band plays a seriously grooving and energetic mix of rock, jazz, fusion, kraut and psychedelia with lots of improvisations, Hammond, odd time signatures and fuzz bass.
Progressive Circus 2016 – part III is arranged by Kulturpunkten with support from Record Heaven
See you there =)