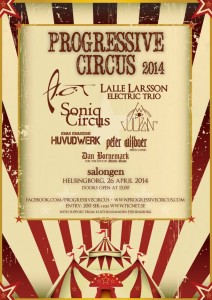 Progressive Circus 2014 was held April 26th 2014 at Salongen in Helsingborg, with support from Helsingborgs Stad and ABF.
Progressive Circus 2014 in media: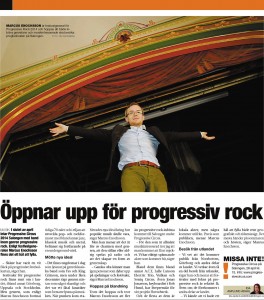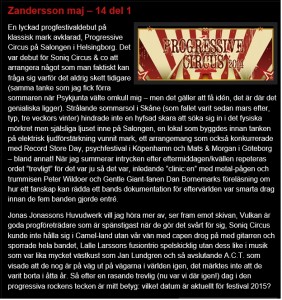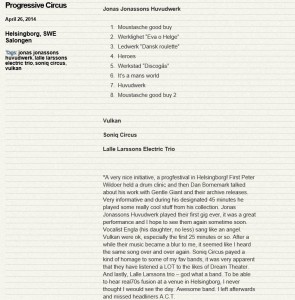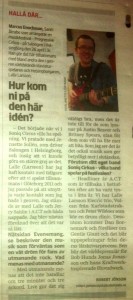 TV4 Nyheterna also had a clip about the event, but the clip is no longer available online.
Thank you post from the PC14 arrangers:
Thank you very very much for a fantastic day yesterday! We had a blast as arrangers and would like to thank EVERYONE involved in making this as good as it was =)
Feel free to share any nice photos or videos you may have from the event!! Eventually some will show up from here as well..
So thanks a lot to the artists Peter Wildoer, Dan Bornemark, Jonas Jonassons Huvudwerk, Vulkan, Soniq Circus, Lalle Larsson Electric Trio, A.C.T!! For your info, I've heard different attendants… having each of the 7 artists as their highlight of the day, which is a proof of the musical breadth covered.
Thanks to Johan Osberg and Simon Nilsson at Soundlite for fixing the sound gear and mixing! We owe you a great deal for making this event so good!
Thanks to Andreas Hanberger, Johan Pilblad, August Borg and Sylvester Wictor for helping us with entrance and wardrobe, Nils Erichson for shopping, Linus Abrahamsson for mixing lights during SC and anyone helping who we may have missed here!
Finally, thanks to Salongen and Jeanette Sollén for encouraging us to turn the Vulkan + Soniq Circus gig into a completely different kind of monster, and ABF and Kulturnämnden Helsingborg for supporting us!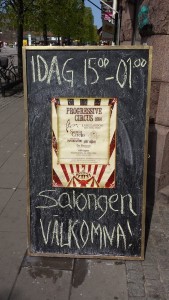 Photo: Nils Erichson
Video footage from the event:
Audio recording from the event: