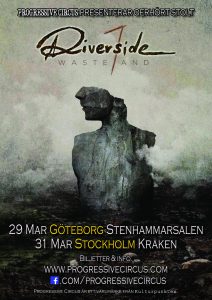 We are incredibly happy to present the two Swedish dates on the 2019 Wasteland tour of
RIVERSIDE
After 18 years as a band, polish Riverside have established themselves as one of the bigger names in the progressive rock world, and have gained a reputation as a solid live act, including appearances on the major festivals like ProgPower, Be Prog my Friend and Night of the Prog.
Their melancolic progressive rock with metal influences has reached a wide audience over the years, including 3 gold albums in Poland, and critically acclaimed masterpieces like Out of Myself (2003), Anno Domini High Definition (2009) and the latest Wasteland (2018).
Since the tragic death of founding member and guitar player Piotr Grudziński in 2016, Riverside is officially a trio: Mariusz Duda on vocals, guitars and bass, Michal Lapaj on keyboards and Piotr Kozieradzki on drums, who have all been a part of the band since the early years. On stage, the band is complemented by Maciej Meller on guitar.
Originally, the Riverside dates were supposed to collide with the Neal Morse Band, and after some hard work, we managed to squeeze them a bit, and are happy to welcome you to:
Fri Mar 29 – Gothenburg, Stenhammarsalen. Tickets: https://www.gso.se/program/konserter/riverside/2019-03-29-20:00/
Discounted tickets are available to members of Gothenburg Art Rock Society (GARF), just like for the Neal Morse Band concerts. Join here to get access to the discount: http://garf.eu/kontakt.html
Sun Mar 31 – Stockholm, Kraken. Tickets: https://www.nortic.se/dagny/event/19609
If you haven't heard Wasteland yet, you should! It's their best album (claims the biased promotors), and here's our favourite track:
https://www.youtube.com/watch?v=fw-9AtkVkUA
https://youtu.be/bW0QP8YVAec
This is what Mariusz Duda has to say about it: Wasteland" is mostly about what's happening in the world these days but it also makes a reference to the tragedy that befell the band in 2016. Musically, we've returned to darker sounds but we have also turned a new page and recorded the album in a different style. It's still RIVERSIDE but expressed in a much deeper and more mature way.
See you here:
1 Dec – Spock's Beard & Roine Stolt's The Flower Kings Revisited, Kulturhuset Stockholm
2 Dec – Spock's Beard & Roine Stolt's The Flower Kings Revisited, KB Malmö
29 Mar – Riverside, Stenhammarsalen Gothenburg
31 Mar – Riverside, Kraken Stockholm
30 Mar – Neal Morse Band, Viften Copenhagen
31 Mar – Neal Morse Band, Stora Teatern Gothenburg
1 Apr – Neal Morse Band, Skandiascenen Stockholm
Info & tickets: www.progressivecircus.com
Prog hugs & kisses,
Marcus & Anna