Very welcome to the official website of PROGRESSIVE CIRCUS (PC)!
UPCOMING PC EVENTS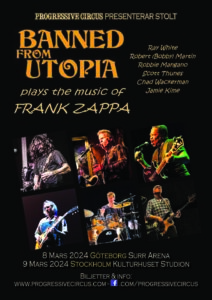 Click here for info: Banned from Utopia
March 8 2024 – Surr Arena (formerly Brewhouse), Gothenburg
March 9 2024 – Kulturhuset Studion, Stockholm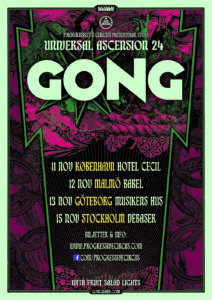 Click here for info: GONG
November 11 2024 – Hotel Cecil, Copenhagen (ticket link TBA)
November 12 2024 – Babel, Malmö 
November 13 2024 – Musikens hus, Gothenburg
November 15 2024 – Debaser, Stockholm
CLICK HERE FOR TICKETS (Swedish dates)
Progressive Circus is a progressive rock festival and concert concept that was founded in 2014, with the vision to bring the best of progressive rock to you – with gigs arranged in south Sweden, Gothenburg, Stockholm and Copenhagen (in collaboration with KPM concerts).
PC IN THE PAST
If you're interested in what PC is all about and what we have done so far, here's some selected highlights from the PC CV:
The first gender equal progressive rock festival in the known universe (PC17, with ADRIAN BELEW POWER TRIO, MOULETTES and more)
The first concerts ever in Sweden by MAGMA, CARAVAN, LE ORME, MIKE PORTNOY'S SHATTERED FORTRESS 
Bringing VAN DER GRAAF GENERATOR, CAMEL, IQ, PETER HAMMILL and SPOCK's BEARD to Sweden for the first time in decades
To find out more about our previous events, please visit our PC museum to look at Youtube videos, articles, photos etc.
Stay tuned here, or at www.facebook.com/progressivecircus, or subscribe to our mail list to get news 😉