The completely unique cult band MAGMA (France) returns to Sweden!
Get your tickets to the concert at KB, Malmö, October 28th, here:
http://kulturbolaget.se/konserter/2017/magma/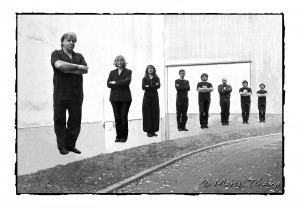 In October 2015 MAGMA did their first concert in Sweden since the start in 1969. The concert was a Progressive Circus event, held at The Tivoli in Helsingborg, and caused the established music magazine Gaffa to write: "The orchestra is generous and offers as much as fours songs (in a bit over two hours), and the cheering audience only proves that this could be one of the most appreciated bookings and gigs in Helsingborg ever"
Many visitors described the night as one of their best concert memories ever, and some of the response is collected here:
http://progressivecircus.com/wp-content/uploads/2016/03/Magmarespons-1.jpg http://progressivecircus.com/wp-content/uploads/2016/03/Magmarespons-2.jpg http://progressivecircus.com/wp-content/uploads/2016/03/Magmarespons-3.jpg
In case you wonder, Magma was founded in Paris in 1969, when drummer Christian Vander put the collective together with the purpose to make sure that the creative spirit of the deceased John Coltrane could carry on. Since then the band has created music that mostly is centered around a highly ambitious conceptual mythology with a sci-fi-ish story about a people leaving earth for the planet Kobaïa. Therefore we can expect a few, but looooong suites in Malmö. Remember – this is NOT One Direction!
The lyrics are mainly sung in Kobaïan – a fictive, phonetic language that isn't always translatable. The music is based on Christian Vander's energetic and innovative jazz drumming, Philippe Bussonet's driving fuzz bass and Carl Orff like operatic choir arrangements from Stella Vander, Isabelle Feuillebois and Hervé Aknin. The repetitive and hypnotic riffs are accentuated and developed with the help of vibrafonist Benoît Alziary, guitarist Rudy Blas and electric pianist Jérôme Martineau. All in all, MAGMA gives a completely unique live experience that may never occur on Swedish ground again.
Why not visit our online museum from the Magma concert in 2015 here:
http://progressivecircus.com/?page_id=66
…or watch this youtube clip:
The concert is a Progressive Circus event, very proudly co-arranged by Jazz i Malmö and Kulturpunkten.