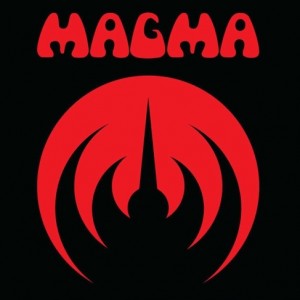 Hhai!!
Write MAGMA at The Tivoli in Helsingborg October 10:th with capital letters in your calendar!!!
We're ridicously proud to present the best band in the world: the french zeuhl/jazz/funk/prog/opera octet MAGMA!!! They will do their only Swedish/Danish stop on their very acclaimed "Endless Tour" at The Tivoli. It will be the bands second Swedish gig ever, with the former being in Stockholm 1985. You can read between the lines that this will be a piece of Swedish progressive live history that will be written. DO NOT MISS!!
For those who may need an introduction, Magma is the cultiest of the cult bands, founded in Paris in 1969 by drummer Christian Vander who put the collective together with the aim of keeping the deceased John Coltrane's spirit alive. Since then, the band has created music that's mostly related to a very ambitious conceptual mythology with a sci-fi story about a people leaving earth for the planet Kobaïa. Therefore we can expect very few, but loooong suites of music in Helsingborg. Remember – this is NOT One Direction…
The lyrics are mostly sung in Kobaïan – a fictional, phonetic language that isn't always translatable. The music is based on Christian Vander's energetic and innovative jazz drumming, the driving fuzz bass of Philippe Bussonet and Carl Orff like operatic choir arrangements from Stella Vander, Isabelle Feuillebois and Hervé Aknin. The repetitive and hypnotic riffs are accentuated and developed with the aid of vibraphonist Benoît Alziary, guitarist James Mac Gaw and electric pianist Jeremy Ternoy. All together, Magma gives a completely unique live experience that may never happen on Swedish ground again!
You can buy tickets for the event in our brand new web shop already today, and also tickets for the "prog bus" from Stockholm w return (including some very special guests). The shop is found here:
http://shop.textalk.se/se/shop.php?id=49188
Review quotes from The Endless Tour:
"No matter what your preconceptions regarding this band is; I can't recommend nor encourage enough how much one should catch them live." (http://heathenharvest.org)
"not simply a cerebral performance of some kind of space opera by clever musicians, but a full blown spiritual experience with the music acting as the connecting vehicle between performer and listener." (http://sfbammagazine.com)
Official homepage: http://www.magmamusic.org/
A clip from the Quebec gig in May: https://www.youtube.com/watch?v=AYK2k4_0ISs