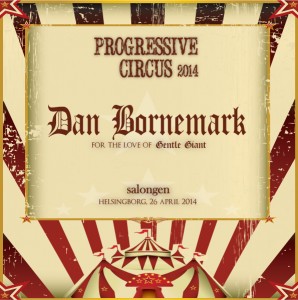 Part of Progressive Circus 2014
We're very happy to give the PC14 audience a unique insight in the recording process of one of prog's most influential cult bands:
Dan Bornemark – For the love of Gentle Giant
During their active career from 1970-1980, with 11 released studio albums, Gentle Giant made a huge impression in the history of progressive rock. Most who know of the genre know of Gentle Giant and their extremely ambitious compositions, covering folk, soul, jazz and classical, especially medieval musi…c. The members often changed or switched instruments on stage and sang very complex multi-part vocal harmonies more and before anyone else. That's one of the reasons the band still gains a lot of interest among prog fans and artists, and a reason why dedicated Gentle Giant fan Dan Bornemark took a dive into the archive of demos and outtakes from the classic GG records, and compiled the luxurious but sadly out of print boxes "Under Construction" (2CDs, 1997) and "Scraping the Barrel" (4CD, 2004).
At Progressive Circus 2014, Dan will tell us about his work and play some snippets of seldom heard Gentle Giant music that will give both hardcore GG fans and general prog rock nerds something to salivate over!
Dan is otherwise brought up with music all around him, participating at a very young age on the recordings of famous children songs by his mother Gullan Bornemark. Anyone who's been a kid in Sweden the last 50 years will be familiar with "Sudda Sudda", "Valpen min" or "Min ponny". He has continued the work with music for children and is active professionally with his group "Trio Trams" and actually released an album with children's music where Ray Shulman of Gentle Giant contributes some violin. He also has a project within progressive rock, called Green Asphalt.
LINKS:
Dan Bornemark: www.danbornemark.se
Under Construction on Youtube: http://www.youtube.com/watch…
Gentle Giant on Spotify: https://play.spotify.com/artist/1hrQ50kU6hMQBVLatqUqnO
Dan Bornemark on Spotify: https://play.spotify.com/artist/4ZxWSVc0Yeyxcpv84eVpfq
Progressive Circus 2014 is a one day festival held at Salongen, Helsingborg April 26th 2014. Artists: A.C.T, Lalle Larsson Electric Trio, Vulkan, Soniq Circus, Jonas Jonassons Huvudwerk, Peter Wildoer drum clinic and Dan Bornemark: For the love of Gentle Giant. More info at www.facebook.com/progressivecircus or www.progressivecircus.com
The event is arranged with support from Kulturnämnden, Helsingborg
Buy your tickets here: http://www.ticnet.se/…/progressive-circus-2014-bilje…/306123