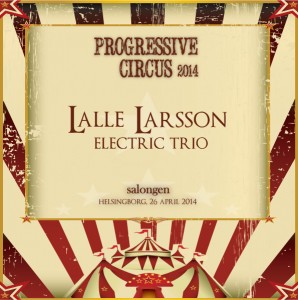 Played at Progressive Circus 2014
We're very proud to announce a top notch quality progressive jazz/fusion artist for the fourth and final Progressive Circus 2014 artist release:
Lalle Larsson – Electric Trio
You may have heard his fingers fly across the keyboards in Karmakanic or Agents of Mercy, and for PC14 he teams up with energetic and impressive drummer Walle Wahlgren from AoM, and a yet-to-be-confirmed bass player. During the spring of 2014 we will see the release of the next solo CD from Lalle Larsson, but can already rest assured that it will appeal to the PC14 audience!
Lalle Larsson is a world renowned keyboard player in the progressive music scene. He has toured worldwide with different bands including headlining many of the major progressive festivals across Europe and in the US.
As a solo artist, Lalle has recorded several albums including the DVD Seven Deadly Pieces – "A concert for chamber orchestra and thrash metal band", and the progressive jazz/rock suite – The Weaveworld Trilogy.
Over the years Larsson has appeared on over 40 CDs with various artists such as Karmakanic, Agents of Mercy, Gary Willis, Sebastiaan Cornelissen, Richard Hallebeek, Shawn Lane, Dave Weckl, Phi Yaan-Zek , Marco Minnemann, Virgil Donati, Randy Brecker and Electrocution 250 to mention but a few.
Currently he's touring as the musical director of "Arrival – the music of ABBA", playing in sold out venues around the world to enthusiastic audiences.
In the 2012 february issue of Classic Rock presents Prog Magazine the readers voted Larsson top five in the "best keyboard player" category.
Don't miss the chance to catch him live at Progressive Circus 2014!!!
SELECTED DISCOGRAPHY:
SOLO
Ominox – Contemporary Past – Recordings from 1993-95 (2004 Liquid Note Records)
DVD – Seven Deadly Pieces – Concert For Chamber Orchestra & Electric Guitars (2008 Weaveworld Music)
Weaveworld (2009 Reingold Records)
Infinity Of Worlds (2010 Reingold Records)
Nightscapes (2012 Reingold Records )
GROUPS AND COLLABORATIONS
Electrocution 250 – Electric Cartoon Music From Hell (2003 Liquid Note Records)
Richard Hallebeek Project – RHP – Feat: Brett Garsed & Shawn Lane (2004 Liquid Note Records)
Lalle Larsson, Gary Willis, Sebastiaan Cornelissen – TimeLine (2005 Munich Records)
Karmakanic – Who's The Boss In The Factory (2008 Inside Out)
Phi Yaan Zek – Dance With The Anima – with Marco Minnemann (2010 Geomagnetic)
Agents Of Mercy – Dramarama (2010 Foxtrot)
Agents Of Mercy – The Black Forest (2011 Foxtrot)
Karmakanic – In a Perfect World (2011 Inside Out)
Phi Yaan Zek – Deeper With The Anima – with Marco Minnemann, Bryan Beller (2012 Geomagnetic)
Richard Hallebeek Project – Pain in the Jazz – Feat: Randy Brecker, Greg Howe, Guthrie Govan (2013 Richie Rich Music)
Lalle Larsson on Facebook: https://www.facebook.com/lalle.larsson
Lalle Larsson of Reverbnation: http://www.reverbnation.com/lallelarsson
Lalle Larsson on Progarchives: http://www.progarchives.com/artist.asp?id=5539
Lalle Larsson on Spotify: https://play.spotify.com/artist/3qVy04mzoNtOVFQ0MLUgLW
Trailer for the "Seven Deadly Pieces" DVD: http://youtu.be/ktLA0RfrYLc
"Journey" by Agents of Mercy live @ 2 Days Prog +1, Veruno 2011, including an amazing Lalle Larsson solo 6:40-end: http://youtu.be/AAl7EkmrKps
Progressive Circus 2014 is a one day festival held at Salongen, Helsingborg April 26th 2014. Released artists: A.C.T, Lalle Larsson Electric Trio, Vulkan and Soniq Circus. More info at www.facebook.com/progressivecircus or www.progressivecircus.com