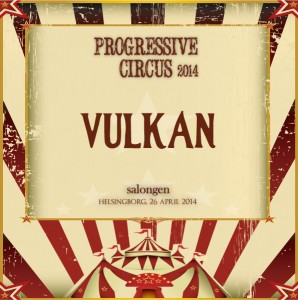 Played at Progressive Circus 2014
Ladies and Gentle Giants, we're extremely happy to make the second Progressive Circus 2014 artist announcement:
Vulkan
If there were some justice in this world, wars and starvation would be extinct, the resources of our planet would be evenly distributed and Vulkan would fill an Ullevi or two and sail away from Avicii in the album charts. Their self released debut "Mask of Air" (2011) received very good reviews, earned the "album of the year" award by newspaper VF, got them t…o play at Sweden Rock Festival, and is a masterpiece according to the PC14 arrangers but even among progheads not many people know of them. One of the aims of Progressive Circus 2014 is therefore to spread the word of this fantastic ensemble and let their live magic sweep anyone with ears and a heart away.