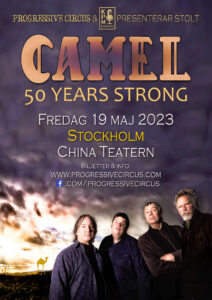 Progressive Circus and KPM Concerts are incredibly happy to invite one of the most iconic prog names to Sweden for the first time since 1984:
The 2023 tour celebrates the 50 years passed since the band started to release albums, with Mirage (1974), The Snow Goose (1975) and Moonmadness (1976) being mandatory classics in the record collectors' shelf. The break through album was The Snow Goose, an instrumental concept album inspired by a novel with the same name, leading to a prestigeous concert with the London Symphony Orchestra at the Royal Albert Hall.
The bands sound is defined much by founder Andy Latimer, whose fantastic guitar solos have inspired many guitarists throughout the years. By the end of the 70's, Colin Bass joined on bass and was a Camel member until the breakup in 1984. In the 90's the band reformed for some new tasteful album releases but after A Nod and a Wink (2002) they have focused on some exclusive, well visited and hailed tours and live DVD:s. On stage in 2023 you will see Denis Clement on drums, Peter Jones on keyboards and vocals, besides Andy Latimer on guitars and flute and Colin Bass on bass.
To match Camels' epic, symphonic goose bump prog that has inspired names like Marillion, Opeth and Steven Wilson, we have booked the exclusive China teatern to maximize this unique concert experience that you don't have to think twice if you should go to. You will not regret it, so buy a ticket to both yourself and perhaps someone you care about already today!
See you there