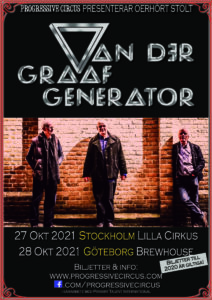 The previously announced dates for Van der Graaf Generator in May and November 2020 are postponed due to the Corona/Covid-19 situation. There is no new date for Copenhagen, but tickets bought to Gothenburg or Stockholm are valid for the new dates.
October 27 Lilla Cirkus, Stockholm
Tickets: https://www.ticketmaster.se/event/561179?brand=se_cirkus&CAMEFRON=580Cirkus
October 28 Brewhouse, Gothenburg
Tickets: https://www.nortic.se/dagny/event/27503
We're incredibly proud to present one of the most important, groundbreaking and asked for bands from the first wave of progressive rock:
VAN DER GRAAF GENERATOR
When VdGG do Scandinavian concerts for the first time since 1977, they're doing it with the classic core trio that have been in the band since the debut album in 1969: the lyricist genious PETER HAMMILL on vocals, guitar and keyboard; organ master HUGH BANTON and drum demon GUY EVANS.
Brilliantly dark and deeply existensialist albums like "Pawn Hearts" (1971), "Godbluff" (1975) and "Still Life" (1976) helped Van der Graaf Generator to reach the hearts of a multitude of soul searching music lovers around the world, and established them as the punkier, wilder but also sophisticated cousin of other ambitious bands from the same era. You can't mention the band without bringing up Peter Hammill's brutaly honest lyrics about the shortcomings of being and his extremely dynamic and direct singing style. With the well-deserved epithet "the Jimi Hendrix of singing", he and VdGG have inspired leading names in different genres like Bruce Dickinson (Iron Maiden), Ola Salo, John Lydon (Sex Pistols), David Bowie and Mikael Åkerfeldt (Opeth) to mention a few.
Many fans took a leap of joy when VdGG unexpectedly announced their reunion in 2005, after their breakup in 1978. The return to stage was a massive success and four great studio albums followed since. But the silence after the 2013 tour lead to most fans assuming that the band had decided to call it quits when it comes to live appearances. Until now, that is, when we get the chance to witness two magnificent Progressive Circus evenings with one of the finest bands in the world. You will want to tell people you didn't miss this!