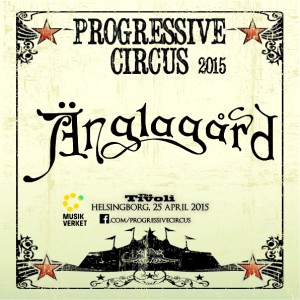 Played at Progressive Circus 2015
We are incredibly happy to announce one of the most important Swedish prog rock artists as our fourth PC15 release:
ÄNGLAGÅRD
In 1991, when prog was at it's uncoolest, when Genesis, Pink Floyd and Yes had gone commercial and when critics used prog as a four letter word, the band Änglagård was formed in Stockholm, with the purpose to create pure symphonic rock like in the 70's – without cheesy synth sounds or pop influences.
Their debut album Hybris (1992) is four songs and 44 minutes of mainly instrumental hardcore prog with very evident bonds to Yes, King Crimson and swedish folk music. Its virtuoso musicianship with distinctive Rickenbacker bass, flutes, glockenspiels, gongs, tubular bells and soaring Mellotrons made a huge impact among prog fans and is considered one of the seminal first albums of the so called third wave of prog. Hybris remains one of the most critically acclaimed albums in the genre and is listed as nr 16 on the all-time top list on main reference site progarchives.com
For a long time Epilog (1994), seemed to be their final album but after many rumours they did their comeback with Viljans Öga, which topped many best-of-2012 lists and arguably improves the formula set in the early 90's.
If you want to experience music that sounds like dark Nordic forests, John Bauer paintings and a thunderstorm at once, make sure you DO NOT MISS when Änglagård visits Skåne for the first time at Progressive Circus 2015!!! On stage you will see virtuosos Erik Hammarström (drums/percussion), Johan Brand (bass), Tord Lindman (guitars), Jonas Engdegård (guitars), Linus Kåse (keyboards) and Anna Holmgren (flutes, saxophones).
Please note: Helena Bergström and Rikard Wolff will sadly NOT be available for signing your DVD:s and movie posters after the show, due to their non-existence in the band.
DISCOGRAPHY:
Hybris (1992)
Epilog (1994)
Buried Alive (live, 1996)
Viljans Öga (2012)
Prog på Svenska – live in Japan (2014)
LINKS:
Änglagård on Facebook: https://www.facebook.com/anglagardrecords
Änglagård official homepage: http://www.anglagardrecords.com/
Änglagård on Spotify: https://open.spotify.com/artist/2z3Eoj9BvslBDrmygKjr2B
Änglagård on Progarchives: http://www.progarchives.com/artist.asp?id=18
"Sorgmantel" from Viljans Öga (2012): http://youtu.be/v8wXtLnXvmQ?t=5m50s (the 'prog-perfected'-part 5:50–9:43 may very well be the actual higher purpose why Yes and King Crimson ever existed, sounding like their mutated bastard child on steroids!!)
"Jordrök" live @ Progrésiste 2013, Centre Culturel de Soignes, Belgium, 2013-04-27: http://youtu.be/3ro9Tbyp07s
"Kung Bore" live @ Centro Cultural Roberto Cantoral, Mexico City, 2014-05-23 http://youtu.be/Mveq_AM4aiE