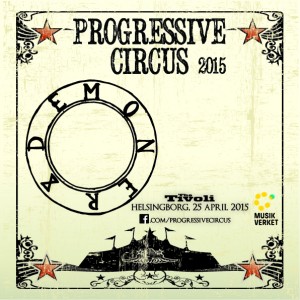 Played at Progressive Circus 2015
We are very pleased with our second PC15 artist release- a promising band with it's grand future ahead:
DEMONER
We could label them jazzrock, prog, psych or instrumental rock, but Demoner's true call is to create groove, pain, anguish and ecstasy and to press "Play" on the movie inside your head. The band came into existence when it's members met and played together at Malmö Academy of Music. Their debut "Anakronism" was recorded live in studio to capture the organic partners…hip between the musicians, and released in May 2014. It was their first gig – as opener for Gösta Berlings Saga in November 2013 – that impressed the PC organizers and secured Demoner's way to PC15.
Demoner has one foot in the psychedelic instrumental rock and the other one in the afro-american improvisation music. In the middle of this there is a grand passion for soundtracks, and the timeless melancholic edge of Swedish folk music. Fläsket Brinner meets Herbie Hancock, King Crimson meets Goblin. Kebnekajse meets Mahavishnu Orchestra and so on…
The line-up consists of main composer Simon Frödeberg (bass), Joakim Jensen (drums), Joakim Svensson (guitar), Johan Thuresson (guitar), Johan Pihleke (keyboards) and Rasmus Nyvall (tenor saxophone). Don't miss their concert at Progressive Circus 2015!!!
DISCOGRAPHY:
Anakronism (2014)
LINKS:
Demoner on Facebook: https://www.facebook.com/demonersweden
Demoner on Spotify: http://open.spotify.com/album/4SggoVAqqtVHZqFDTiNyIg
"Viljan till ord", live at Bandbaren, Malmö, 2014-05-30 http://youtu.be/R42nXoae3Rc
"Anakronism", live session @ Tambourine Studios, Malmö, October 2013 http://youtu.be/sQMI8rgiePQ
Article in swedish from Skånskan 2014-07-17 http://www.skanskan.se/…/-/demoner-med-en-egen-musikalisk-m…
Review in Swedish on prog blog Universum Noll http://www.universumnoll.com/…/zandersson-juni-14-del-2.html