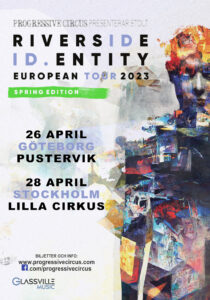 Progressive Circus are very proudly welcoming RIVERSIDE back to Sweden after four years of waiting for it.
Those who came to the concerts we arranged in 2019 at Stenhammarsalen in Gothenburg and Kraken in Stockholm can confirm that it's a band on fire when on a stage, and we KNOW you won't be disappointed this time either.
With a new album, ID.Entity, being released in January we will meet a band that are eager to both present the fresh material, and give some older favourites from their 20 year career.
This time we've booked Pustervik and Lilla Cirkus for your pleasure, and are sure it will be great gigs!