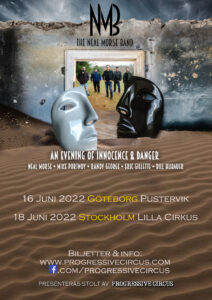 Progressive Circus are very proud to welcome one of the leading progressive rock names to Sweden again: NMB (formerly The Neal Morse Band) for An Evening of Innocence and Danger!!
The 2022 tour focuses on Innocence and Danger – the band's fourth studio release and a double album filled with top class musicality and epic rock, released in August 2021. Just like on the previous and hailed double concept albums The Similitude of a Dream (2016) and The Great Adventure (2019) the band consists of some of the world's most skilled musicians, namely mega drummer MIKE PORTNOY (Dream Theater, Twisted Sister, Avenged Sevenfold, Transatlantic, Flying Colors, Sons of Apollo etc), ERIC GILLETTE on fast fingered guitar and vocals (Mike Portnoy's Shattered Fortress etc), BILL HUBAUER on keyboard and vocals and RANDY GEORGE on bass. …and of course NEAL MORSE (Spock's Beard, Transatlantic, etc) is on stage, doing vocals and playing guitars and keyboards.
When the band played in Gothenburg and Stockholm in 2019 it was a magic ambience in the venues and it will of course be just as unforgettable evenings when we can meet and experience concerts with grand music again after a pandemic. We are looking forward to this so incredibly much!!
Thursday June 16 2022 – Pustervik, Gothenborg
Tickets: https://www.tickster.com/sv/events/wyvkch5k9kl4hcb
Saturday June 18 2022 – Lilla Cirkus, Stockholm
Tickets: https://www.ticketmaster.se/event/595757?brand=se_cirkus…
Neal Morse Band in Gothenburg 2019: https://youtu.be/8pbIhZIeWSI
Neal Morse Band in Stockholm 2019: https://youtu.be/6EzibedLt5U
Check out Neal Morse Band online:
https://www.facebook.com/TheNealMorseBandOfficial/
www.instagram.com/thenealmorsebandofficial
www.twitter.com/nealmorseband1