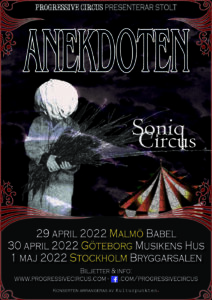 Due to the Corona/Covid-19 situation we have to move the previously announced three date tour of Anekdoten and Soniq Circus to 2022. Tickets bought to 2020 or 2021 are valid to the new dates.
ANEKDOTEN + SONIQ CIRCUS
Fri April 29 – Babel, Malmö (on stage 20.00, 13 years)
Sat April 30 – Musikens Hus, Gothenburg (on stage 20.00, 18 years)
Sun May 1 – Bryggarsalen, Stockholm (on stage 20.00, 18 years or 13 years with parent)
Get your tickets here: https://www.nortic.se/dagny/event/27463
Our friends in ANEKDOTEN are one of the most important Swedish progressive rock bands. With their formation in 1991, they took part in a global revival of the scene alongside bands like Änglagård, Flower Kings and Spock's Beard. The in-your-face mellotron and cello heavy debut "Vemod" makes no compromises with its dark, angular, melancholic King Crimson and Van der Graaf Generator influenced musical universe and was rightly hailed as a start of something beautiful.
The band has continued to release awesome albums every now and then, and their latest release – "Until all the ghosts are gone" – was rated by many as the best release of 2015. The concert at Progressive Circus 2016 in Malmö featured lots of really powerful goosebump moments and confirmed that Anekdoten aren't only good on record but also a great liveexperience. The gig was documented with 3 HD cameras and mixerboard audio, which resulted in this wonderful video of "Gravity": https://youtu.be/EHGY8qknbmY
On stage you will see Nicklas Barker (guitar, vocals), Anna Sofi Dahlberg (mellotron, vocals), Jan Erik Liljeström (bass, vocals) and Peter Nordins (drums) who have been in the band since the start, augmented with guitarist Marty Wilson-Piper.
Anekdoten on Spotify: https://open.spotify.com/artist/79U6sDp9JfvVqlVFZnw0mm
Anekdoten on Facebook: https://www.facebook.com/anekdoten
Anekdoten on Progarchives: www.progarchives.com/artist.asp?id=17
SONIQ CIRCUS is the band who took the initiative to bring Progressive Circus 2014 into existence, and played at the festival three years in a row. The band has been around for 20 years, released two great albums at Progress Records, but you really need to witness them live to get the full Soniq Circus experience. Expect the best prog rock ingredients, such as sharp musical twists and turns, pretty melodies, instrumental quirkyness in odd time signatures and a solid rock drive as a base. The inspiration mostly comes from classic prog bands like Yes, King Crimson and Gentle Giant, but also from modern metal like Dream Theater.
On stage you will see Alexander Abrahamsson (vocals), Marcus Enochsson (guitar, vocals), Marco Ledri (keyboards), Markus Nilsson (bass) and Christer Ugglin (drums). Watch this lineup perform "Inside the hourglass (3am)" at Progressive Circus 2016 here: https://youtu.be/AFtR7uw9USM
Soniq Circus on Spotify: https://play.spotify.com/artist/1tLTgzwaDIb2VNo6yCPYu1
Soniq Circus on Facebook: http://facebook.com/soniqcircus
Soniq Circus on Progarchives: https://www.progarchives.com/artist.asp?id=3274
We are extremely happy to once more see Anekdoten and Soniq Circus share a stage, when visiting the three biggest Swedish cities! See you there =)
More info at www.progressivecircus.com or www.facebook.com/progressivecircus