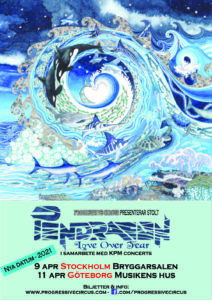 The previously announced dates for Pendragon in April 2020 have been postponed due to the Corona/Covid-19 situations. Tickets to those dates are also valid for the new dates.
April 9 Bryggarsalen, Stockholm
April 11 Musikens Hus, Gothenburg
Tickets: https://www.nortic.se/dagny/event/23730
The shows are announced in collaboration with KPM Concerts.
---
Progressive Circus has done surveys to concert visitors since 2016, and are very happy to present one of the most asked for bands in collaboration with KPM concerts:
PENDRAGON (UK)
Pendragon are one of the foremost leading bands in today's progressive rock scene, led by guitarist and vocalist Nick Barrett; their roots date back to the neo-progressive era of the 1980s,alongside contemporaries such as Marillion & IQ . Pendragon have flown the flag for progressive rock music with a compelling catalogue of acclaimed albums.
Pendragon's music cuts across all aspects of progressive and classic rock, and features the usual armoury of synthesisers and guitars, deployed in tandem with a strong emphasis upon melody and lyrical flair. With shows being scheduled in across Europe in 2020 in support of the release of their new album 'Love Over Fear', we have seized the chance to arrange their first Swedish concerts in over 10 years, in collaboration with KPM concerts:
Pendragon are:
Nick Barrett – guitars, vocals, keyboards
Peter Gee – bass
Clive Nolan – keyboards, vocals
Jan-Vincent Velazco – drums