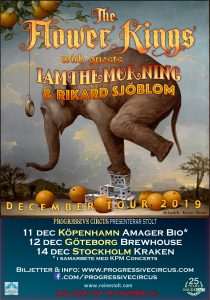 December 11th 2019 – Amager Bio, Copenhagen – The Flower Kings with guests Iamthemorning & Rikard Sjöblom. Click here for TICKETS
December 12th 2019 – Brewhouse, Gothenburg – The Flower Kings with guests Iamthemorning & Rikard Sjöblom. Click here for TICKETS
December 14th 2019 – Kraken, Stockholm – The Flower Kings with guests Iamthemorning & Rikard Sjöblom. Click here for TICKETS
We are incredibly proud to present no less than three excellent names for a long concert evening of the very best of progressive rock: THE FLOWER KINGS (Swe) with guests IAMTHEMORNING (Rus) & RIKARD SJÖBLOM (Swe)!
THE FLOWER KINGS is an iconic band in modern progressive rock, and was formed when ex Kaipa guitarist Roine Stolt wanted to promote his solo album The Flower King (1994). Ever since the very beginning, the band has been comprised of a bunch of super skilled musicians who have released master piece albums at a high speed (10 albums of which 4 are double albums from 1995 to 2007) and have established themselves as solid live favourites. After two comeback albums in 2012 and 2013 and following tours, many safe sources claimed that The Flower Kings were no more.
But in 2018 a new constellation went on a praised tour with Spock's Beard. Progressive Circus arranged two of the concerts and the feedback from fans was that they craved MORE Flower Kings on stage. Therefore we are very pleased to offer you a new opportunity to see this great live band in December 2019. On stage you will see Roine Stolt (guitar, vocals, 1994-now), Hasse Fröberg (vocals, guitar, 1994-now), Jonas Reingold (bass, 1999-now), Zach Kamins (keyboards, 2018-now) and Mirkko de Maio (drums, 2018-now).
Watch a clip from TFK's Stardust we Are in Malmö 2018: https://youtu.be/ljum8h_7X68
Russian "chamber rock" band IAMTHEMORNING performed their first Swedish concert at Progressive Circus 2018 and made a huge impact on the audience with their atmospheric and nearly magic performance, based around classically trained musicians Marjana Semkina (vocals) and Gleb Kolyadin (piano). 2016 release "Lighthouse" won Prog Magazine's Album of the year award, and the recently released "The Bell" gets raving reviews. Music wise, the band present a mix of classical music, folk and jazz with echoes from Porcupine Tree, Kate Bush, Steve Hackett and Riverside, but on stage, the ghost like appearance and morbid humour of Marjana adds a whole other dimension to the music.
Watch Iatm at PC18: https://youtu.be/d3P2jeLohCc
RIKARD SJÖBLOM (guitar, keyboard, vocals) is the musical genious behind Beardfish who played an incredible concert at Progressive Circus 2015. He also appeared at PC16 – part III with Hasse Bruniusson plays Samla Mammas Manna, and is a member of Big Big Train. On this tour, you will have the great pleasure of experiencing his musicality once more, when he performs selected favourites for YOU!
Watch RS opening for Kaipa recently: https://youtu.be/hdrlDalVgak
The Scandinavian dates are: Dec 11 – Amager Bio, Copenhagen (in collaboration with KPM Concerts) Dec 12 – Brewhouse, Gothenburg Dec 14 – Kraken, Stockholm
Kayak (NL) who were originally planned to perform on this tour instead of Iamthemorning and Rikard Sjöblom have cancelled their concerts due to unforeseen health reasons.
Info and tickets: www.progressivecircus.com