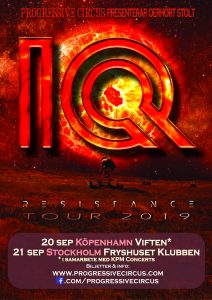 It's a super duper great pleasure to welcome the kings of neoprog to Scandinavia for the third time, soon after the release of their twelfth album. Folks, give some applause for: 
IQ
Since IQ performed their first full length concerts ever in Sweden at Progressive Circus 2016 in Malmö, and in October 2017 in Stockholm, there has been plenty of requests for a return. In september it's time for both a Copenhagen visit for the first full lenght Danish show ever, and then a return to Stockholm, with a brand new album released!
Check out our online museums from their last Swedish visits here:
http://progressivecircus.com/?page_id=199
http://progressivecircus.com/?page_id=728 
"The Road of Bones" from 2014 has been hailed as a dark masterpiece, a new peak in IQ's long history and appears on many best-of-lists in progressive rock. In it's live format, the material has taken on further dimensions, not least thanks to Peter Nicholls' theatrical stage persona and charismatic singing. On stage you will also see Mike Holmes on guitar, Paul Cook on drums, Tim Esau on bass and Neil Durant on keyboards. All of them have been around since the debut "Tales from the lush attic" (1983), except the "newbie" Neil who joined in 2011. 
We look forward a lot to welcome IQ back to Scandinavia for these two evenings of top notch neoprog, and to share them with you who also enjoy the wonderful music of IQ. 
Tickets to Stockholm here: Click here
Combo tickets for Stockholm to BOTH IQ at Fryshuset Klubben Sep 21 AND The Flower Kings + Kayak at Kraken Dec 14: https://www.nortic.se/dagny/show/76207
Tickets to Copenhagen: Click here