Spock's Beard (US) and Roine Stolt's The Flower Kings Revisited (Swe) did a 10 date European tour in 2018 to celebrate 25 years of record label InsideOut, where we hosted 2 dates – Dec 1 at Studion, Kulturhuset, Stockholm and Dec 2 at KB, Malmö. The concerts were arranged by Kulturpunkten/Progressive Circus.
You're very welcome to the online museum for the events. Feel free to browse and check out poster, artist presentation, reviews, photo gallery, Youtube links and the thank you post from the arrangers.
POSTER
Click to enlarge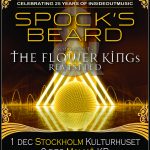 ARTIST ANNOUNCEMENT
SPOCK'S BEARD & ROINE STOLT'S THE FLOWER KINGs REVISITED – Announcement
REVIEWS
(CLICK ON LOOKING GLASS to enlarge and read)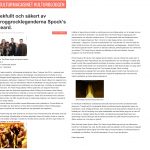 Review in Inrock (in Russian) of the Stockholm concert
PHOTO GALLERY
(Click to enlarge)
Photos from Stockholm by Elena Savitskaya except queue outside, by Fredrik Andersson
YOUTUBE LINKS
THANK YOU POST FROM THE ARRANGERS
We had a superb weekend December 1 & 2, with great concerts & company!
It was lovely to witness the big crowds in both Stockholm and Malmö, lining up to get in, spreading the music focused and friendly ambience that signifies our prog events, nodding in 7/8 and finally singing along to the Na-na-na's of Hey Jude.
From the bottom of our hearts, big thanks to:
– bands/crews of Spock's Beard & Roine Stolt's The Flower Kings Revisited
– everyone who has ever bought tickets or spread the word about Progressive Circus – it's thanks to YOU that we can continue!
– Hans Swahn, Patrik Lauthers, Richard Isberg, Lilian Westin, Per Ericson and Alexander Abrahamsson for helping out with various things
– Marc Västerås for the new PC t-shirts
– Johan Weesmaa for putting up posters
– Andreas Hanberger for taking care of Progbussen
– Karin & Tommy Arnesson for taking care of our kids
Now we focus on a few days in March-April where we'll meet again for some Riverside & Neal Morse Band!!
Prog hugs & kisses,
Anna & Marcus
PS: Have a look at the encore from Malmö:
https://youtu.be/ZbQxpmTIcTs